A quick side note: I'd like to shout out Versus a quick WTF about cutting their race coverage by about half when a hockey game and then a college basketball game ran long. Look, I understand that cycling is still a pretty small fringe sport in the United States. I even get that you need to keep your larger audiences happy. But can't you guys cut us a freaking break!? It's not like there is a ton of coverage to begin with (Tour de France excluded.). Maybe just bump a couple of the lame ass fishing show reruns that you have later on in the evening. Then everyone could be happy. Just a thought Versus, just a thought.
So I just got done watching the 2011 Liege Bastogne Liege which was a truly impressive display by one man. While simultaneously being one of the most tactically inept showings I've seen in a long time by a couple other's.
And before I really get into this please keep in mind I'm fully aware of the fact that I am
armchair quarterbacking
here. I know I have no way of really knowing how hard it actually was. Or even how much work I'm sure it took up to that point in the race (Thanks Versus...) that I started watching. I just feel like I need to air this crap out a little. Thanks...
First I'd like to give Philippe Gilbert his due props. The guy was amazing. At no point during the (abbreviated) coverage that I watched did he look under any kind of real pressure. He stayed towards the front of the main pack. And when the Schleck brother's made their move with about 35 k to go he was the only one who instantly answered the call. He looked poised and aggressive the whole time and I must say that when he countered the little attack that Andy made up the final climb. When Philippe passed him on the inside. Waiting a few moments and then just drilling it again. Putting both Frank and Andy in trouble (Andy more so than Frank.). It was an awe inspiring ride. As well as a deserved winner.
Couple that with his other victories during the last week in the Amstel Gold race and the Fleche Wallone. It is one of the most impressive hat tricks in classics history (I really don't want to be nervous. But I can't help but wonder about the
cleanliness
of his performances. But I will presume innocence until I hear otherwise.). So
Chapeau
Philippe. I think Fabian Cancellara could maybe use some pointers from you on how to be the marked man and still win.
Now on to the most irritating bit of race tactics I've seen in a long while. I can understand about being tired. I can even understand being out gunned. But to have two, TWO(!?) guys to play off of and not really try anything (With the exception of the afore mentioned "attack".) in the winning break is just pathetic. It was like after that initial attack the Schleck brother's both looked at each other and said. "Oh well, we didn't dislodge him. So I guess we are racing for second and third." I mean WTF!? If I was their DS I would be screaming into their ear pieces that they have got to do something!
I'll give Andy a bit of a break because he is the one that made the initial move and he looked pretty smoked after that. But where the hell was Frank? He either had an incredible poker face hiding his stress or he had plenty more powder to use.
I don't know. It just seems like you should have one attack, let the other one sit on Gilbert's wheel until he dragged them back. Then have the other attack and have the other brother sit on. And just keep doing that until you either run out of road or break him. But to just let him get into your head with one dominant counter attack. Let him dictate the pace up the hills where you know its the only place you have a snowballs chance in hell of getting rid of him. And then not even try on the run into the finish it makes my want to pull my hair out (Well, what's left anyway.)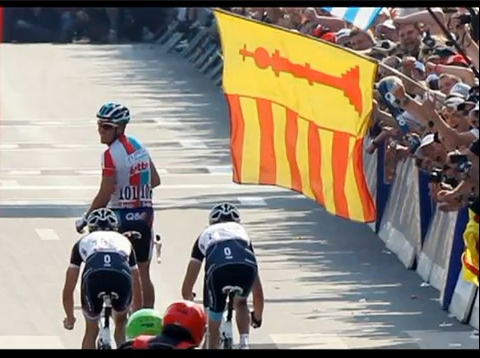 Okay, I feel a little better. Thanks for letting me get that out of my system.
Rubber side down,
Big E