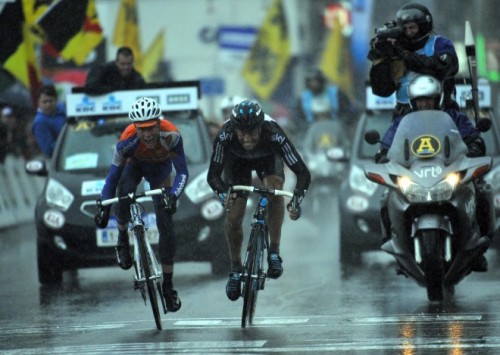 This picture the final sprint in the Omloop Net Neiwsblad is from Steve Tilford's blog.
With the start of this weekend the race season finally starting to really swing. Not that races like the Tour Down Under, Tour of Oman, and the Tour of Quatar aren't good races. But they do not have heritage and real hard man weather like the spring classics. Belgium is where the
real
racing begins for the year (In my opinion).
I mean just look at a few of these pictures from the Omloop Het Niewsblad. Rain, wind, cobbles, classic wheels, the lion of Flanders flags whipping and hard men (No that kinda hard. Pervert) fighting for the ultimate prize. It doesn't get any better. These are the races that I have always enjoyed watching (and dreamed about participating in).
Unlike in July. You see a different kind of suffering in these kind of races. Guys wrapped up from the elements left to die in the gutter as everyone is strung out along a wind swept road. Just trying to hang on for dear life. Cursing for not being in the front echelon. Needing to close a gap that's only 50 feet. But it might as well be 50 miles. Because unless the road or the wind changes direction they're not going anywhere. Its an aspect of the sport that is written about quite a bit. But for what ever reason isn't shown on (or explained) TV very much.
Then there are the cobbles. They are jarring and fatiguing in the best of times. But add a little water and mud and they make even the most experienced racer pucker up in anticipation of them. Good stuff...
Langeveld won this years Omloop Het Niewsblad with a brave break away.
Kuurne-Brussel-Kuurne was also this weekend. With Australian Chris Sutton taking the victory there.
And while there wasn't the rain like Saturday. There were plenty of burgs and wind to mess with everybody out there.
Even Tom Boonen had a go with about 7km left in the race.
Unfortunately team Sky wasn't having any of that and closed the gap with just 1km to go. Another red kite prayer un-answered....
So thanks guys! Thanks for running these races in the nasty stuff. Holding on for dear life for a chance to grab that ultimate prize. Not money or fame (Although I'm sure that's nice too.) But to quench that desire for competition. That primal urge to show dominance to all the other's that dare attempt to take it from you. Because I think that's what all athlete's try for. And only at this kind of level. Do you see it in it's most beautiful.
Rubber side down,
Big E