Christmas gift giving can be a difficult thing if that special someone on your list is a cyclist. Mostly because everything they seem to want has several zeros behind it. Now I'm not promising that I won't have a few of those on this list (At least one zero behind it.). I am after all still one of those ravenous American capitalist type cyclists. But there are many things that you can buy for around thirty dollars (Or less.) that make awesome gifts. So don't despair! Me being me though, I do get easily distracted by shiny pretty things (Just ask my SSHW.). So with out further ado, part one of the 2012 Cyclists' Christmas list (The Stocking Stuffers!)~

Walz Cycling Caps are a fantastic company. Custom caps and two sizes for guys with fat heads (Such as myself.). I know I've had them on the list before. But they're here again because they are worth it.
 
Backcountry Research Fönbag is an awesome little water resistant bag that you can still operate a touch screen through. Very cool product.


Paragon Machine Works titanium bottle opener. Any cyclist who loves beer needs to have one of these. One will last you forever, unless you lose it...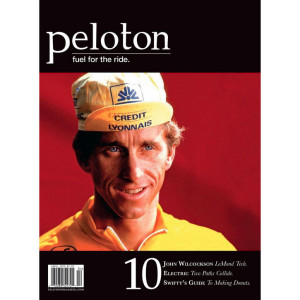 Peloton Magazine is easily my favorite cycling periodical. Great writing and photos...

 
Castelli Nanoflex Bib Tight ($130) is the closest thing to ideal winter riding gear for Oregon that you are going to find. While not waterproof it's darn close.

While sticking with Castelli these are their Diluvio Neoprene gloves ($50). They will keep your hands warm in nasty wet winters.

Bulk zip ties are something you can never have to many of and always come in handy.

This whole group of Park tools is over $200 but anyone of these bike specific tools would be awesome to stuff a stocking with.

Knog make these awesome little blinker lights that are blindingly bright and USB rechargeable.

Crank Brothers Pica + is one of the purdiest tools I've seen in a while. Compact, flat and a chain tool. A winning combo by any ones standards.

A dental pick set come in super handy for bicycles. Pulling bearing seals and picking out little bits of rock and glass out of your tires are just two things that come to mind.

BEER!!! (Or wine.) Anyone who loves beer (Or wine) wouldn't mind a couple extra bottles to add to the beer (Wine) frig.
 I sure hope this gives you guys some ideas on what to give the cyclist on your list. Part two will be bigger stuff (The "dream" list.). But honestly all these things would make any rider a happy little camper.
Thanks for reading!
Rubber side down,
Big E